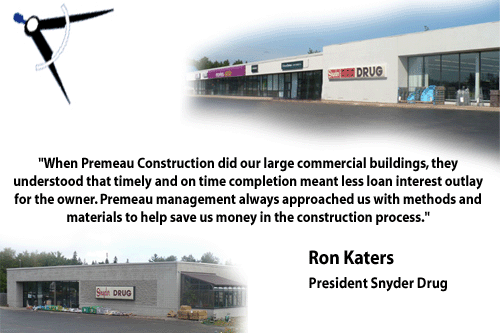 ---
Premeau Construction, Inc. (PCI), a minority owned (Native American),
broad-based General Contracting company. During its 40 year history, Premeau
Construction has evolved into a reputable organization capable of managing all
phases of commercial, industrial, and residential construction. From site
development through close out the company has a proven record of success which
stems from a deep commitment to quality and a steadfast approach in developing
and maintaining its project budgets and schedules.

Premeau Construction was founded in 1967, and incorporated in the state of
Michigan in 1972. The company is headquartered in Marquette, and enjoys a
reputation as one of the leading General Contractor in Michigan's Upper
Peninsula.

Presently PCI employs a 25 man workforce that is capable of ground up
construction which provides the company with an advantage over its competitors
as they do not have to rely on subcontractors. Employees who make up the PCI
work force have been with the company anywhere from 5 – 35 years and are
personally dedicated to its success. The combination of hands-on-management of
projects and their seasoned work force provides PCI with a superior level of
control over all aspects of their projects.

Safety in the work place has been a key element in the company's success. The
company safety program has been recognized by the "Associated General
Contractors of America" and insurance carriers. This recognition has resulted
in attaining an "Experience Modification Rating" of .80. A rating of .80 is
considered "Excellent" for a company the size of Premeau Construction.
Recognition of the importance of human resources and effective supervision of
those resources has been a principal element in the organizations evolution and
effectiveness.

Financial resources and capabilities are solid and more than adequate to cover
current and projected operating costs. Current bonding capabilities allow the
company to bid on projects up to the 10 million dollar range.

Premeau Construction is a qualified general contractor capable of satisfactorily
completing any project it undertakes. After reviewing the information provided,
I am certain you will conclude that Premeau Construction is both qualified and
capable of completing the intended work.


---


Our Services
View a complete list of professional services we provide.




Site Map
Get a complete overview of our web site.




About Us
Learn about our long history of successful building.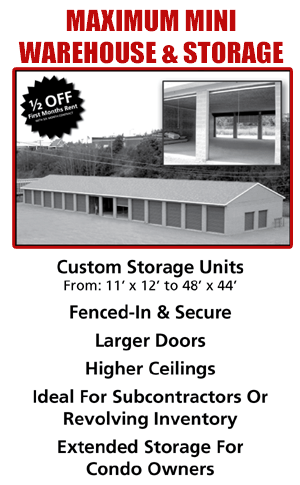 Click here for more information about our Maximum Mini Warehouse & Storage Units!